At first glance, this caption is amusing. It addresses a situation that we all, at one time or another have gone through. I can remember my high school days, and yeah, my mind still goes back that far. All I can say is you wouldn't have wanted to be the one trying to get me out of bed… my anger stage wasn't the best. Waking up was an ordeal.
Human nature creates a mental state that is itself a broad form of ongoing denial. There's a tendency to view things according to how we would like them to be. This, more often than not, happens as a default mentality when our circumstances or the situation is not to our liking. We create an illusion, a type of fantasy if you will, to ease the discomfort of whatever is taking place. For the most part, this is normal and doesn't present a problem. The very steps mentioned in the "Stages of Waking Up" are entered into and we pass through them. We move from denial to acceptance… where life can be faced in terms of reality. However, there are times when we find ourselves stuck in denial, or some where along the way in one of the other stages… never quite reaching acceptance. When this happens, life takes a drastic turn for both the individual and others around them. This turns out to be yet another cleverly veiled trick of the enemy to keep us walking in darkness.
Is your reality stuck on a dark road?
Fear is the direct opposite of faith. The two clash big time, with one canceling the other. The upper hand is held by the one we feed into. If we buy into fear… faith has little to no chance at all. Now take a deep breath. I'm about to open the door to a very slippery road. It's called  "Desire", a place-card of the mind that if not dealt with correctly, could very well be our undoing. Desire has been around for as long as man has been in existence… probably even before. It was desire that fueled Eve's acceptance of Satan's lie, bringing about the fall. It also factored in King Solomon's request for discernment. While desire is a power all its own, the strength of it exists in that which it is attached to. Desire is the pathway between faith and fear. Where one ends up depends on how they walk the road. The key difference that separates the results of  Eve and Solomon, is the motivation of their request. Eve wanted something for herself, while Solomon ask something for others. In both cases, fear and faith were a factor. For Eve, the fear of inadequacy won out over her faith in God. Solomon allowed his faith in God to be bigger than his fear of failing. Once again, our illustration proves itself to carry truth, as well as humor. It becomes a question of acceptance or denial, the two points at each end.
As it relates to you, how do you stand on the road of desire?
Just as care must be taken as we move along the road of desire, trying to stay mindful of the direction of travel… we must also note that there is a danger in standing still. Being stuck, no matter where, is still being stuck. When it comes to being idle, some might say "No Harm, No Foul", and it does sound good… until you closely consider this thing called time. Remaining still hinders progress and because time is finite, potential progress is also lost with each passing second. Wasted time can never be replaced. With that being said, it's better to keep it moving. In doing so there's a better chance of arriving where one needs to be. Even when you find yourself in another bad spot, you gain the advantage of assessing your bearing, as well as the practical knowledge of experience. Adjustments to the move can be made and time is put to better use. The ideal is to move from the least advantageous point (Denial), to that of the most benefit (Acceptance). With that being said, lets take an in-depth look at each position along the path.
As we examine the different stages or stopping points along the way, try to keep an open mind. One prone to suggestion and that uses common sense in evaluating the outcomes. We all have opinions and sometimes we hold them…
Even when we shouldn't.
Denial
A condition in which someone will not admit that something difficult,
challenging, sad, or painful, etc., is true or real.
Hold still, maybe they won't see us…
We've all been there. Smack dab in the middle of something we wished didn't exist. The thing is, it does exist… and the sooner we deal with it the better. How often do we wish to change something simply because we don't like the way it is? Life doesn't stop when we put our heads in the sand. Our eyes may be closed to the happenings around us, but the conditions are still there. You can't mix reality with fantasy.
James 1:8 (KJV)
A double minded man is unstable in all his ways.
Anger
A strong feeling of being upset or annoyed because of something wrong or bad
The feeling that makes someone want to hurt other people, to shout, etc.
As I said earlier, waking me from my slumber when I was younger might be a problem… especially for my younger brother. The fact that he was usually sent by my mother, that I had to get ready for school, or that the alarm had went off over a half hour ago made no difference. The outcome was generally the same… me mumbling some words I shouldn't be using, and him holding his jaw. I was angry for not being allowed to sleep. The question is why? I knew I should be up and I knew why. The situation had repeated enough times for me to know full well what was expected… it wasn't going to change. If anything was wrong it was me and my attitude. There was no real reason for my anger… other than my selfishness and stubborn pride. The things that usually exist just before trouble arises and we find ourselves in danger.
Proverbs 16:18 (KJV)
Pride goeth before destruction, and an haughty spirit before a fall.
Bargaining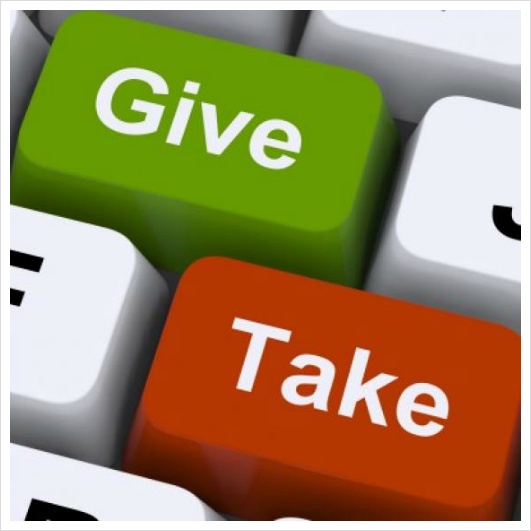 An agreement settling what is given or received in a transaction,
or what course of action or policy is pursued in order to proceed.
The act of compromise or practice of each side giving up something in order to reach an agreement… Negotiation.
Anyone who has ever been shopping is familiar with the term, "Bargain Hunting." It involves looking for the best deal, the lowest price, the most value, and so on. In most every case, it's only a deal when we get more than we give up. In the back of our minds we want something for nothing. From the outset our quest is self centered and that posture tends to drive the negotiation process. We really don't wish to give anything, but we will take… and take as much as we can manage to get. The simple truth that we all want to overlook is this. There is no "Free Lunch." Somebody has to pay. From the Biblical viewpoint, this approach is riddled with flaws. Bargaining can be a useful skill, however, the process must be entered into with the proper perspective and viewpoint. The best negotiations are those where both parties pay their just due as well as walk away with a sense of satisfaction.
Acts 20:35 (KJV)
It is more blessed to give than to receive.
Philippians 2:4 (KJV)
Look not every man on his own things, but every man also on the things of others.
Depression
A state or condition in which a person feels very sad, hopeless, and unimportant.
Often marked, especially by inactivity, difficulty in thinking and concentration,
a significant time spent sleeping, feelings of dejection and hopelessness,
and sometimes suicidal tendencies which prevent a person from living in a normal way.
A friend of mine suffered a heart attack. He's long since recovered and for all appearances is doing fine. In describing the experience he said to me that it was like an elephant had stepped on his chest. Now I wouldn't want to be in that predicament, but in a real way I already have. Depression, like the foot of the elephant in my friends chest, is a giant invisible weight that pins you down and traps you. Often, escape is impossible or at least very difficult, without assistance. When you look at the description given under the image above, you can get a real good picture of my life as it was for at least 20 yrs. Depression happens to be an unusual stop on life's road. Unlike the others, it's a place that you never really look for… it finds you. It's sneaky, creeping slowly to catch us in its grip. We agonize in its presence, ever wanting to leave, and all the while realizing that the exit is somehow hidden out of view. The one thing that it does with expert effectiveness is surprisingly ironic. It dictates to our understanding that change, and help are very necessary. The dangerous part concerning this is not all who are locked in its grip will believe that those changes and the necessary help, do exist.
For me personally, it's a model of life without faith. To escape, you need a savior. One that you can trust and believe in with everything you've got.
Hebrews 11:6 (KJV)
But without faith it is impossible to please him: for he that cometh to God must believe that he is, and that he is a rewarder of them that diligently seek him.
Acceptance
In human psychology, it is a person's assent to the reality of a situation,
recognizing a process or condition
(often a negative or uncomfortable one)
without attempting to protest, or change it. 
"Each of us has been put on earth with the ability to do something well.
We cheat ourselves and the world if we don't use that ability as best we can."

~ George Allen, Sr. ~ 
Whatever the circumstances that are presented, and regardless of how we might want them to be different, the reality of what they are is the point that we must start our attempt to deal with them. Each moment of our lives brings about a situation that has to be decided upon. It will either be one that is favorable and something we want to sustain or it will be unfavorable, causing a desire for change. Whatever the case, no real choice can be made until we accept the reality presented.
While we may not like what is, we have no right to deny what is or the light in which it is presented. Time and time again, the whole of mankind has presented itself as a disappointment to God. We've sinned and chosen to disobey His Will. We've complained and murmured. More often than not we've been stubborn, refusing to do that which we know is right; making backbiting and backsliding our preferred choice. Not once did the reality of what we were and what we were doing deter our Heavenly Father. Against the odds and probably against conditions which He didn't like… God dealt with the situation at hand.
Romans 5:10 (KJV)
For if, when we were enemies, we were reconciled to God by the death of his Son, much more, being reconciled, we shall be saved by his life.
Just as recognizing sin and repenting from it is a sign of spiritual growth, "Acceptance" is a sign of our maturity. The two go hand in hand. They are essentials necessary if we are to reach an enlightened understanding. An understanding that brings us to the threshold of "Hope." A thing that none of us can afford to exist without.
Lamentations 3:21 (KJV)
This I recall to my mind, therefore have I hope.
Blessings,
Matt.